Mashle: Magic and Muscles Season 2 revealed character designs for Ryoh Grantz, Orter Madl and Margarette Macaron ahead of the January 2024 premiere date. The sequel, which will cover the Divine Visionary Candidate Exam arc, was announced in June. A-1 Pictures is returning to animate.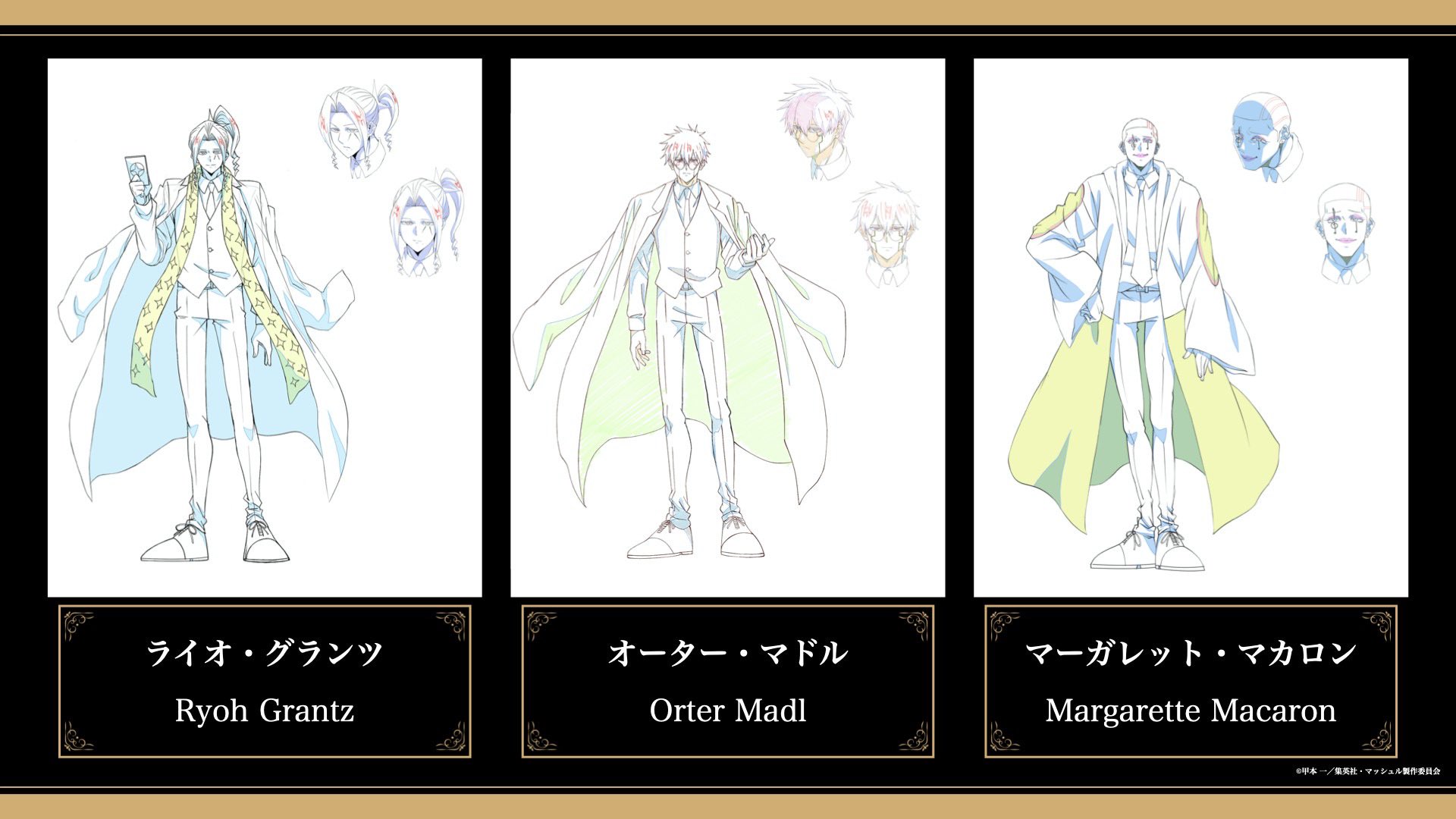 Chiaki Kobayashi as Mash Burnedead
Kaito Ishikawa as Lance Crown
Takuya Eguchi as Dot Barrett
Reiji Kawashima as Finn Ames
Reina Ueda as Lemon Irvine
Yuki Kaji as Rayne
Yuichiro Umehara as Abel
Hiroki Nanami as Abyss
Studio A-1 Pictures animated the first season of Mashle anime under the direction of Tomoya Tanaka. Yosuke Kuroda was in charge of the series composition and Hisashi Tojima was the character designer. The anime is based on a manga by Hajime Komoto, which has been serialized in Weekly Shonen Jump magazine from January 2020 to July of this year. The manga has a total of 162 chapters.
VIZ licensed it in English, and you can also read it on MANGA Plus. The licensor describes the plot as:
This is a world of magic where magic is used for everything. But deep in the forest exists a young man who spends his time training and bulking up. He can't use magic, but he enjoys a peaceful life with his father. But one day, his life is put in danger! Will his muscular body protect him from the magic users who are out to get him? Powerfully trained muscles crush magic as this abnormal magical fantasy begins!
Source: Official Website, Aniplex Online Fest 2023
© Hajime Komoto / Shueisha/Mashle Production Committee
The post Mashle: Magic and Muscles Season 2 Introduces New Characters appeared first on Anime Corner.
from Anime News News - Anime Corner https://ift.tt/Vz2nYXc