The upcoming Bottom-Tier Character Tomozaki Season 2 released a new key visual. The season is officially titled Bottom-tier Character Tomozaki 2nd Stage, and is set to premiere in January 2024 with animation by Project No.9. Additionally, DIALOGUE+ will perform both the opening and ending themes. The opening is titled "Easy? Hard? But Let's Move On!" and the ending is "Dare ka Janai kara."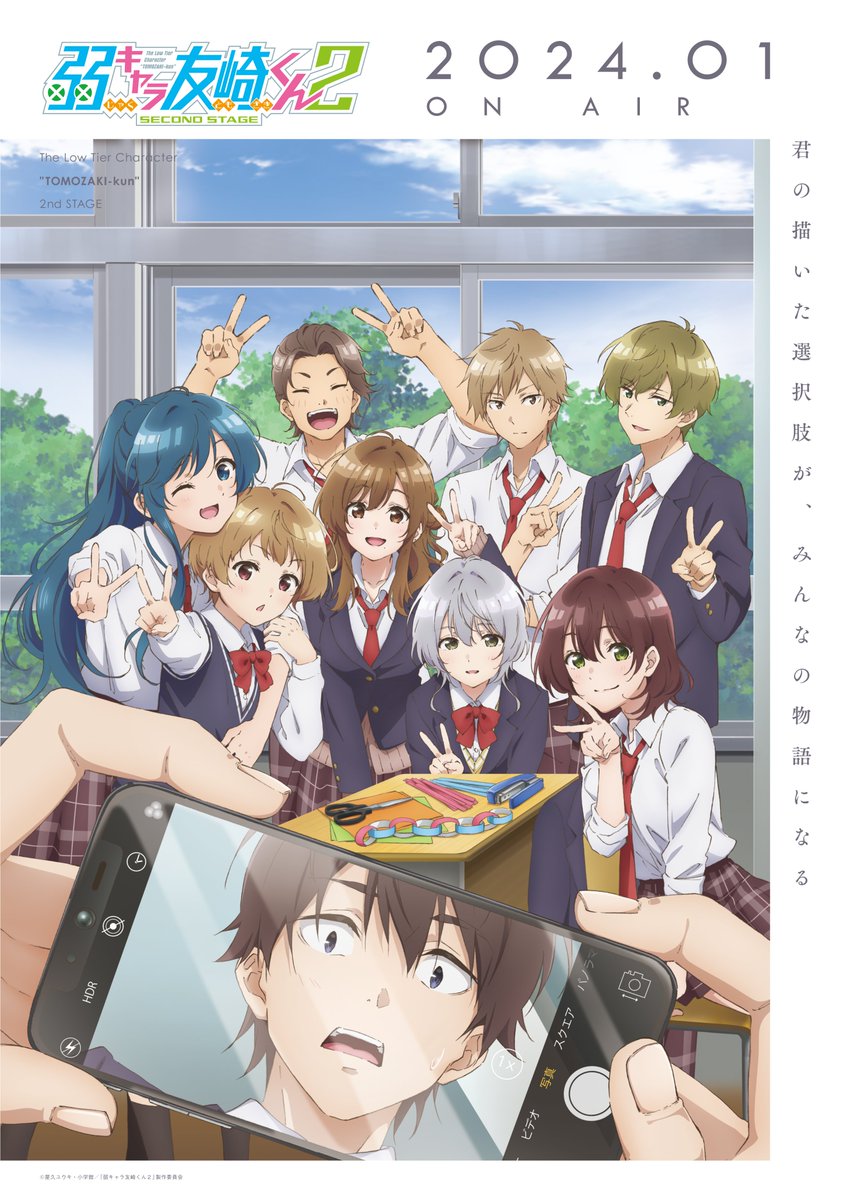 As previously announced alongside the season 2 official trailer, Shinsuke Yanagi will direct, Fumihiko Shimo will write the screenplay and Hiromi Mizutani will be responsible for the music. Bottom-tier Character Tomozaki anime premiered in Japan on January 8, 2021, with its final episode airing on 26 March 2021. The anime series adapts Yuki Yaku's Jaku-kyara Tomozaki-kun light novel series which initially debuted in May 2016 in Shogakukan's Gagaga Bunko imprint, with 10 volumes of the main story to date. The light novel series was licensed as Bottom-tier Character Tomozaki by Yen Press which has translated 10 volumes. The 11th volume will be available for purchase in Japan from January 18, 2024.
The returning cast for season 2 includes:
Gen Sato as Fumiya Tomozaki
Hisako Kanemoto as Aoi Hinami
Ikumi Hasegawa as Manami Nanami
Ai Kayano as Fuka Kikuchi
Ryoko Maekawa as Hanabi Natsubayashi
Nene Hieda as Yuzu Izumi
Nobunaga Shimazaki as Takahiro Mizusawa
Nobuhiko Okamoto as Nakamura
Shuntaro Mizuno as Takei
See the previous teaser visual for the Bottom-Tier Character Tomozaki season 2:
Crunchyroll provides the official synopsis for Bottom-tier Character Tomozaki season 2, which is:
With no written rules, the real world is hard for gamer Tomozaki Fumiya, but he's about to get experience he needs from a seasoned player.
Source: Official X
© Yuki Yaku, Shogakukan / "Bottom-Tier Character Tomozaki" Production Committee
The post Bottom-Tier Character Tomozaki Season 2 Reveals Key Visual and Theme Songs appeared first on Anime Corner.
from Anime News News - Anime Corner https://ift.tt/WTRjpt2